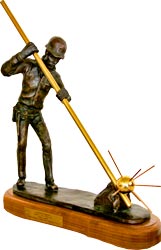 The NOVA Award was instituted by the Construction Innovation Forum in 1989 to recognize innovations that have proven to be significant advances that have had positive, important effects on construction to improve quality and reduce cost.
NOVA Awards have been awarded to advances in all areas of the construction industry, including innovations in the construction process, and in materials, design, detailing, fabrication, equipment, procurement, contract administration, management, labor relations, training, and safety that improve the construction process. The NOVA Award has also recognized projects for their innovative concepts and methods.
The Nova Awards are presented by the Construction Innovation Forum at its Innovation Celebration Banquet each year.
CIF has presented more than 80 NOVA Awards to innovations involving 12 countries: Canada, China, Egypt, Finland, France, Great Britain, Holland, Japan, Norway, Sweden, Switzerland, and United States. The more than 600 nominated innovations from more than 20 countries are described in the CIF Nomination index.
NOVA Award Unique Features
Innovations from all parts of the construction industry and all over the world are equally eligible for the NOVA Award, and they are judged by a broad-based national Jury of ten leading experts.
The NOVA Award nomination process is purposely simple so it is easy for anyone to make a nomination.
From the NOVA Award nominations received, the Jury selects a short list for further investigation.
The CIF performs its own investigation of nominations using national engineering experts that prepare detailed, objective reports that help the Jury select finalists and winners. The investigation also identifies people and organizations primarily responsible for each innovation.
The NOVA Award is presented to innovations, not people or organizations. All who are involved in its invention and implementation are a part of the award.
The CIF prepares an objective presentation on NOVA Award winners for the Innovation Celebration Banquet, at which each person responsible is introduced and is eligible to receive the NOVA Award statue.
NOVA Award Statue
The NOVA Award statue is a construction worker prying a new star out of his common work, a star whose brightness throws new light on his work and changes it. The worker represents all construction people: labor, managers, engineers, suppliers, and owners, doing their daily work. The pry bar represents the common tools construction people use in their daily tasks. The soil represents the common materials and methods used in that work.
The star represents an uncommonly significant new idea, a method or tool or material that changes construction. It does not occur by itself. It is discovered and pried out by construction people who seek it and work to develop and use it. The star's illumination changes one's view of the work. The star's brightness disturbs more common work and illuminates its imperfections. Once the star is created and released, its brightness and its gravity cannot be ignored - it changes the work. However, a NOVA does not last forever, in time it will pale and become common, perhaps even disappear. Renewal requires us to continuously seek and develop innovations, or our work will become even more common or disappear.
The NOVA Award statue is a cast bronze sculpture resting on a hardwood base, 16 inches (41 cm) tall weighing 15 pounds (7 kg).